At Rising Fawn Gardens, we are stewards of nature who are devoted to protecting the land, farming sustainably, and building an enduring community that fosters education and wellness.
Rising Fawn is a small community in Dade County, GA located in the valley below scenic Lookout Mountain. It is conveniently located just 30 minutes from downtown Chattanooga Tennessee, and 30 minutes from Fort Payne, Alabama.
We are blessed to be stewards of this beautiful piece of God's green earth. Through the years, we have poured our hearts and our passions into Rising Fawn Gardens. As our family has multiplied, so have the memories we have created as we have worked together to care for this land. We've uncovered roads, cleared trails, built a formal trail system, and created fields for growing. In 2013, a bridge over Lookout Creek was built bringing to a close the days of crossing the creek in the truck. The bridge was truly a bridge allowing us to not only access the farm on any given day, but also created the possibility of opening the farm to a larger community. The intensive bridge-building project paved the way for the building of the Yoga House in 2016. During this time of building basic infrastructure, we learned so much about ourselves and the land. It was a time of complementary learning and mutual caretaking. We now host public programming including retreats, workshops, and open farm days.
In recent years and through all of the projects, we found our niche in growing medicinal plants, beginning with turmeric and ginger. After several years of practice in growing these tropical plants in a subtropical climate, a successful process was developed. As our interest in plants as medicine grew, so did the desire to learn and share more. A plan for a Medicinal Garden was begun. A design on paper evolved over time followed by a careful selection of plants offering healing and support to each system in the body. In 2019, the Medicinal Garden came to life as each plant started from seed or purchased from a local source, or transplanted from our own wooded areas, was gently put in the cultivated soil. Within these borders is a rich ecosystem of plants to nourish not only the human body, but each native pollinator as well. This latest garden addition rounds out our fields of grains, orchards of apples and blueberries, turmeric, ginger, and seasonal vegetables.

Meet the Rising Fawn Gardens Team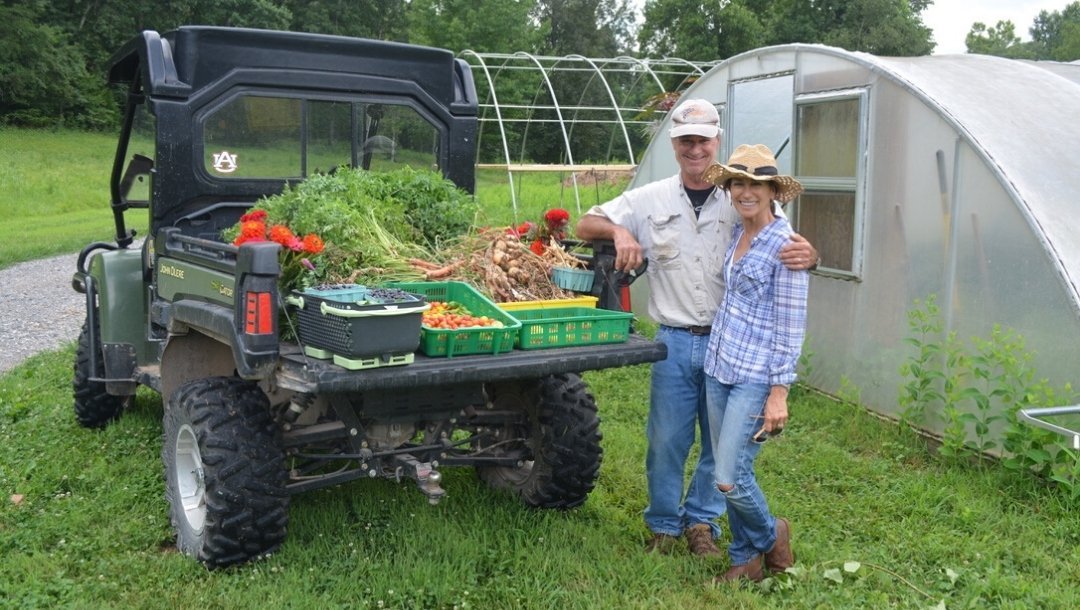 Karen LaRussa Persinger
CO-OWNER & STUDENT OF LIFE
Karen serves the land as owner and oversees the daily business operations of the farm as well as the Yoga House rentals and events. She is also spearheading the creation of turmeric-infused product collections set to launch in 2020.
Karen completed the Essentials of Herbalism Study with the Blue Ridge School of Herbal Medicine in 2016. She's also taken several Mindful School courses including Mindfulness Fundamentals and Mindful Educator Essentials. She is a certified yoga instructor and former school teacher. Her passion and talent for teaching makes sharing plant knowledge and nature-based wellness come naturally. To her, Rising Fawn Gardens is an invaluable gift to her family and the community. She spends her days making sure it is taken care of so it can be enjoyed by generations to come.
"Smile, breathe and go slowly" – Thich Nhat Hanh
Steve Persinger
CO-OWNER & CHIEF YARDMAN
Steve serves as owner and as chief yardman. He oversees planting and preserving the Medicinal Garden and fields, clearing and maintaining the trail system on the property and managing the game and wildlife habitats.
Steve's lifelong experience being in and appreciating the great outdoors has shaped his desire to be a steward of the land and the abundant resources associated with it. He's spent a vast amount of time learning from Mother Nature firsthand. His gardening experience comes from decades of trial and error in the dirt. Rising Fawn Gardens represents his passion for life. He is forever grateful for the daily opportunity to explore the property, commune with nature and reflect on life.
"The mountains are calling and I must go." – John Muir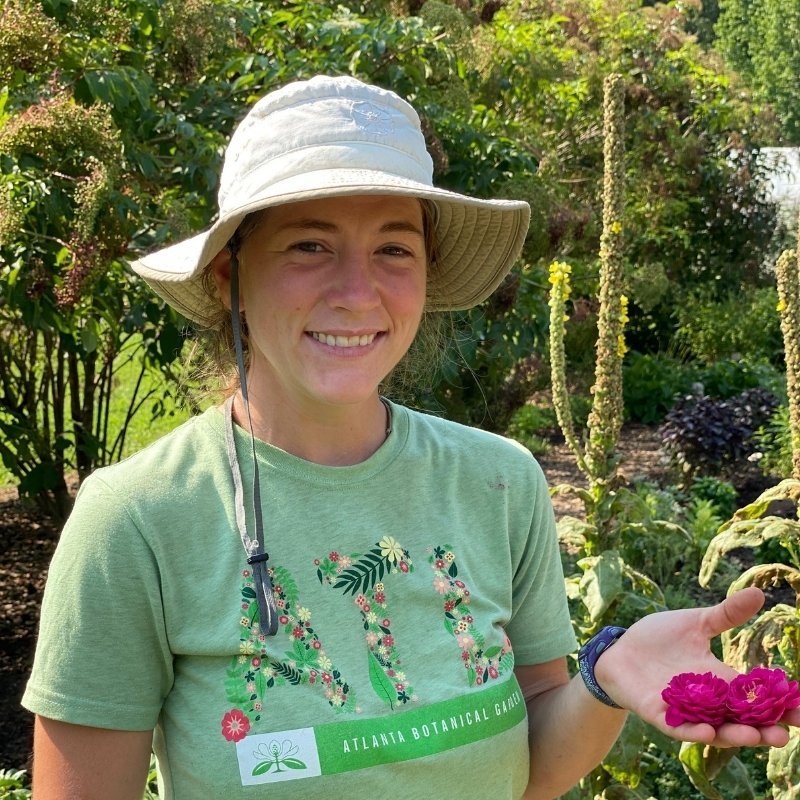 Courtney Parker
GARDENS MANAGER
Courtney Parker is our Garden's Manager. She began at RFG as an assistant in the gardens. She worked closely with Beth in caring for all of the gardens from seedling to harvesting and processing. Courtney's instinctive connection with plants and insects and foundational knowledge of medicinal plants made her a natural fit to step into the Gardens Manager position. In her role, she tends management of the gardens as well as guiding the assistant gardeners. In addition, Courtney educates visitors on how to plant, care for, and use medicinal herbs.
Previously, Courtney was a farmer at Crabtree Farms. She's also been a volunteer master gardener and spent time in the landscaping industry. Courtney completed the Essentials of Herbalism Study with the Blue Ridge School of Herbal Medicine, as well as other continuing education courses.
She views her position at RFG as an opportunity to learn more about the human connection to the land and use her skills to help nurture that relationship both within herself and with the guests. To her, RFG is "magical, filled with history, biological diversity, and a generosity of spirit to all who enter."
"In dwelling, live close to the ground,
In thinking, keep to the simple,
In conflict, be fair and generous,
In governing, don't try to control,
In work, do what you enjoy,
In family life, be completely present." -Tao Te Ching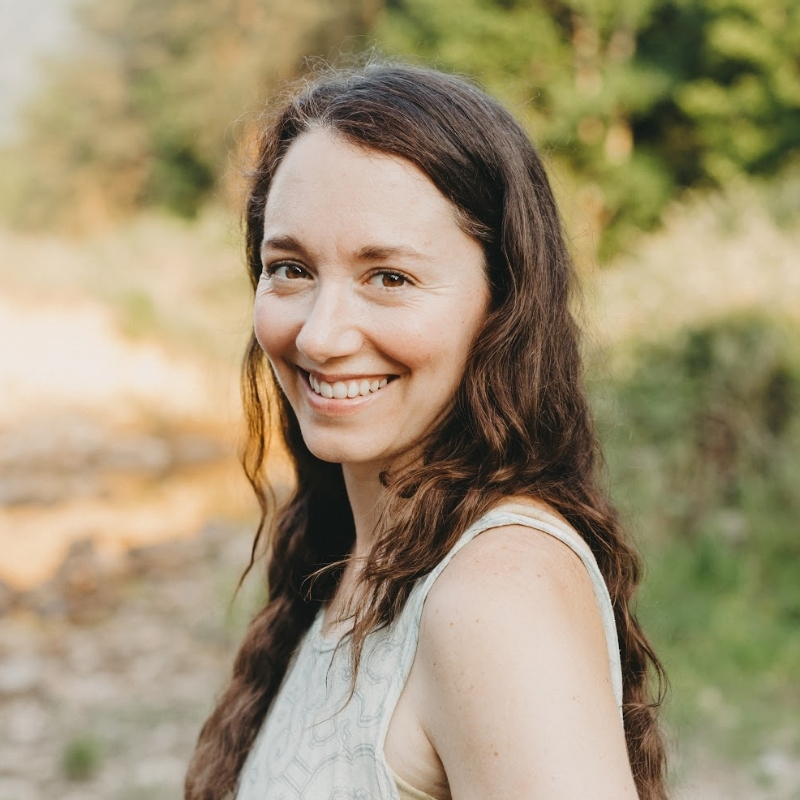 Ali Banks
APOTHECARY MANAGER
Ali Banks is our Apothecary Manager. Her role as an RFG team member is vital in bringing our customers the vibrant products we have come to enjoy. Her days are filled with plant medicine from the harvesting of tender herbs to the careful monitoring of their drying and proper storage. She has a knack and a nose for developing and preparing fragrant and healthy herbal tea blends and is the queen of pristine recordkeeping.
When she is not with us at Rising Fawn Gardens, you will find Ali busy as co-founder of Forest Folk Fungi, a medicinal mushroom apothecary. She has studied plant medicine since 2014, including a year-long course with the Gaia School of Healing and Earth Education, and offers private herbal consultations. She enjoys helping others explore how plants and fungi can support our wholeness.
From Ali: "I feel deeply grateful to have the privilege of spending time with the land and people at Rising Fawn Gardens. The spirit of this place is palpable—ancient, gentle, and present. It is a gift to interact with the wise green beings who live here and the good folks who tend them, know their names, know their seasons, and know their medicine."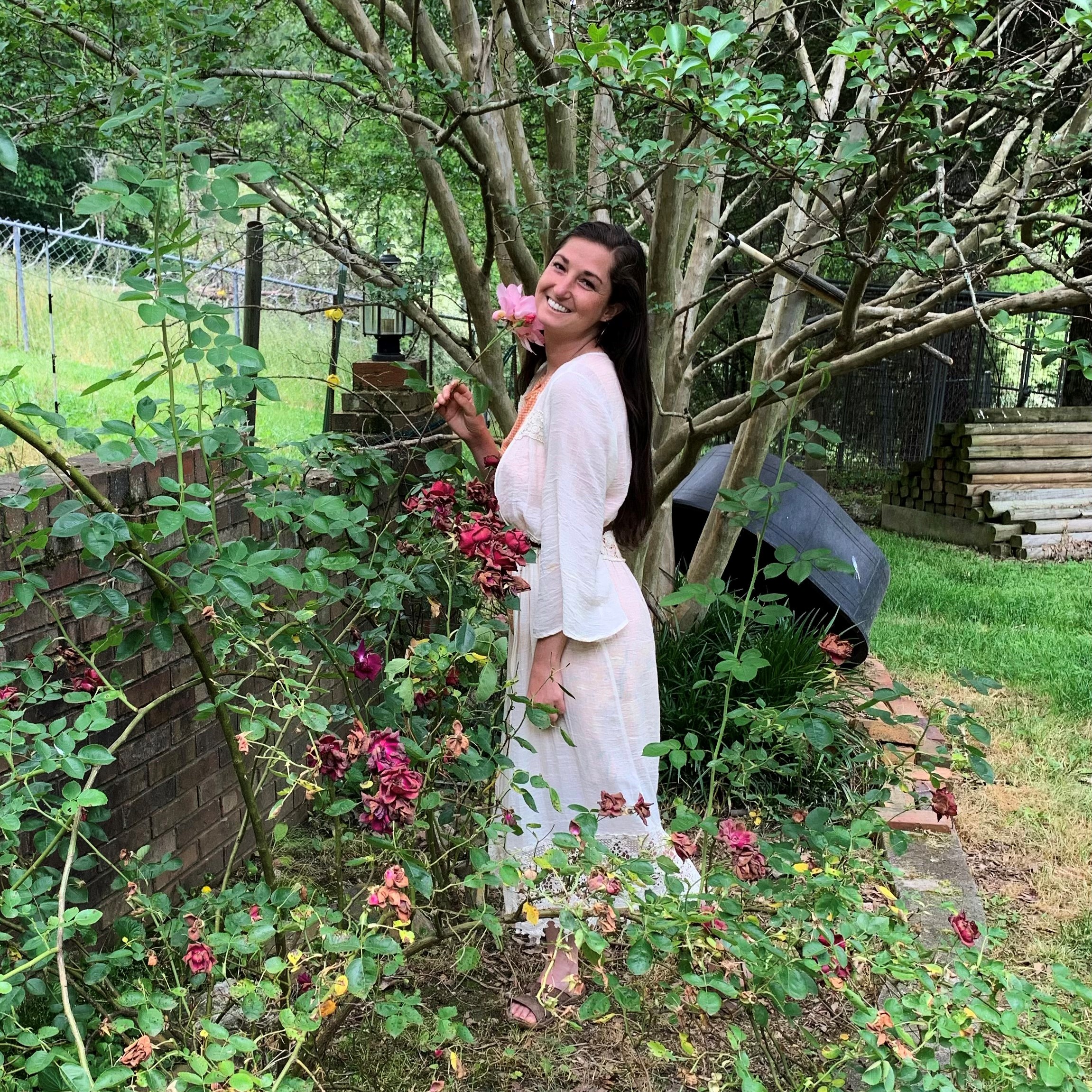 Amanda G. Verkest
ADMINISTRATIVE & OPERATIONS ASSISTANT
Amanda began working at RFG in early 2021 as a seasonal garden assistant. She brought a love for plants and learning to the fold, as well as a knowledge base on food science, quality control, and sustainability. She began helping with administrative tasks and retreat operations and before long, we knew we needed her as a permanent member of our team! Amanda's thoughtful insights into managing operations and her communication skills are very appreciated as an important piece of the work at RFG.
Amanda holds a B.Sc. in nutrition and food science with a minor in chemistry and an M.Sc. in global studies and international relations focused on global student mobility and sustainable development. She previously worked in food and beverage microbiology and currently offers consulting services for international food regulation, sustainability, and international education in addition to her role at RFG. Amanda intends to study holistic herbalism at the Blue Ridge School of Herbal Medicine to continue her pursuit of becoming a clinical herbalist and plant medicine worker. 
From Amanda: RFG is an ethereal space that continually fills my spirit with joy, curiosity, and serenity. The plant, animal, fish, bird, fungal, and human beings who frequent RFG inspire me to help myself and others live in harmony with our beloved Mother Earth. "Medicine is a way of life, an object, or ceremony having power or control over influences that may affect a person, and a path toward restoring health."  -Cherokee Elder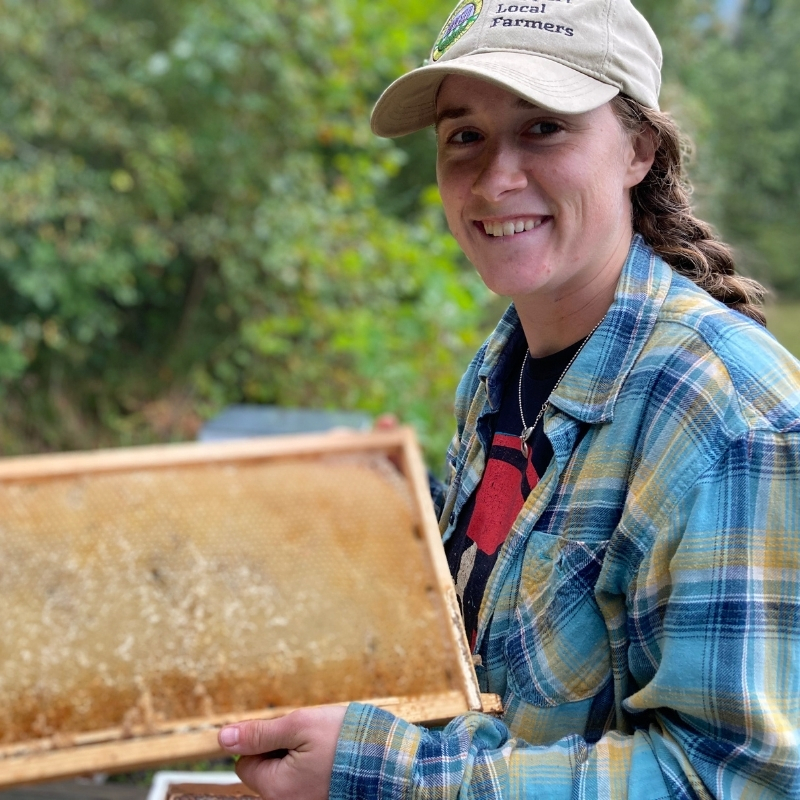 Kara Matassino
GARDENS ASSISTANT
Kara Matassino joined the RFG team in 2020 as our gardens and trails assistant. Kara works with our plants from seedling to harvest and this year even tediously captured seeds from some of our plants at the end of the season to propagate for next year's planting.  We love Kara's smile and find it with her whether she is vigorously digging in the gardens, intentionally walking the trails, or processing turmeric with tenacity! 
Kara comes to us with experience in establishing trails, land management, and general plant care. She is also trained in Wilderness First Aid a definite plus in our books!
From Kara: "RFG provides a safe, well-maintained area to continue education about medicinal plants and their potential uses. It is a space managed by folks who sincerely care about protecting the land they occupy."