Rising Fawn Gardens is a living apothecary. We are surrounded by an abundance of plants and vegetables, both cultivated and wild, that offer nearly limitless natural remedies for the body and mind.
We believe the earth gives us what we need to live, grow, and heal and that plants have the power to enhance our well being and restore our health. Rising Fawn Gardens is a living apothecary surrounded by an abundance of plants, both cultivated and wild.
Dedication to responsibly caring for the land is foundational to all we do. Part of our stewardship to the land is ensuring the gardens are cultivated and maintained using sustainable agriculture and environmental practices. We plant a variety of crops and rotate the crops to create a healthier soil. Just this practice helps maintain vital nutrient makeup in the soil and naturally improves pest control. Another practice is planting cover crops like clover. These crops protect and build soil health by preventing erosion, replenishing soil nutrients and keeping weeds in check. As a sustainable farm, we also care for the lesser cultivated or uncultivated areas of the land and waterway of Lookout Creek. By supporting the natural habitat, the pollinators and all plant and animal biodiversity of the forests, fields and water can flourish.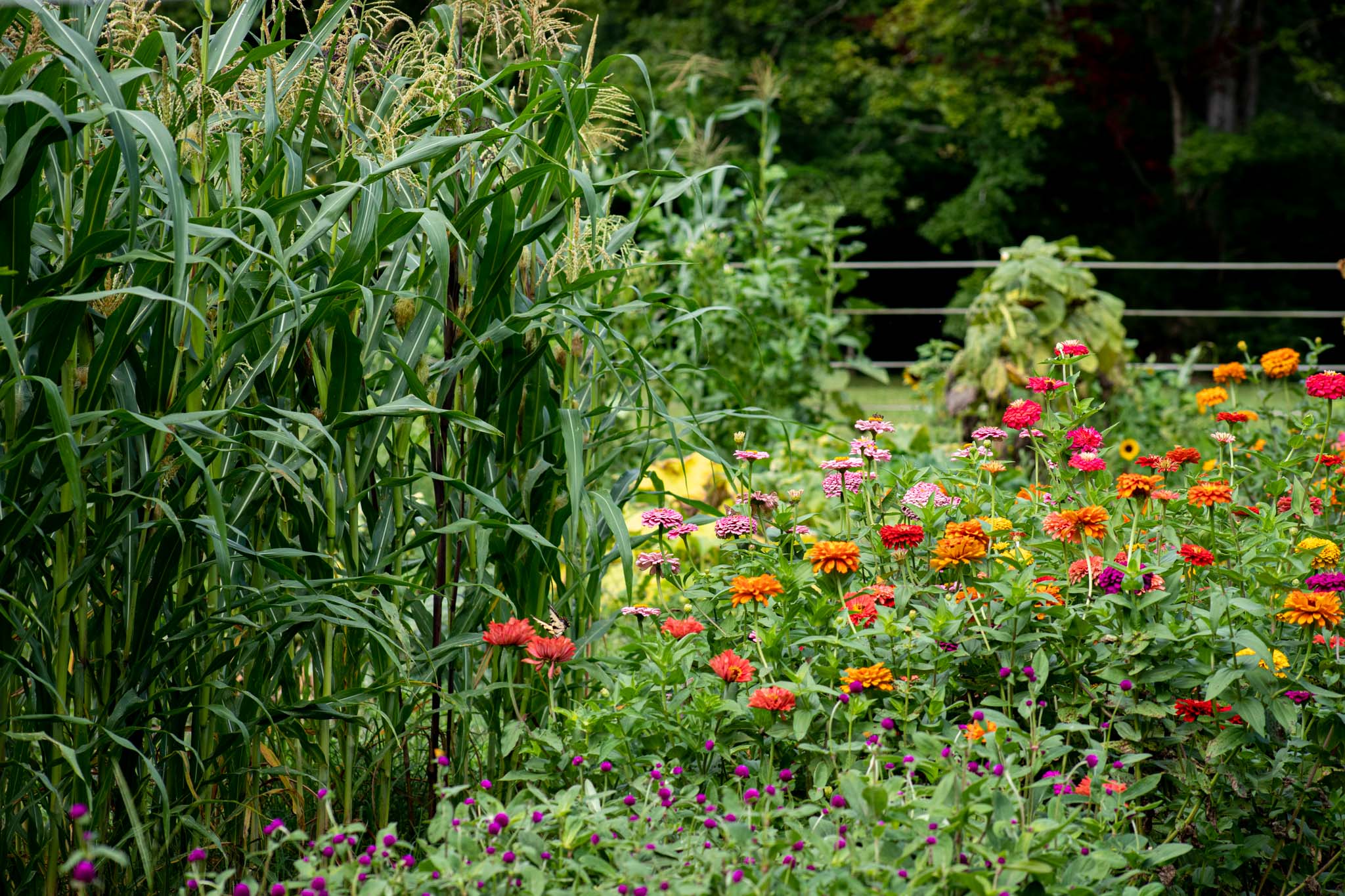 A nature-based lifestyle in which plants are seen as our allies in supporting and improving our health started with turmeric. Trial and practice have been the teachers in growing this tropical rhizome in the cooler climate of northwest Georgia. As a popular plant for its healing benefits, turmeric encouraged us to learn more about the plants naturally growing in the woods surrounding us and the healing properties these plants hold.
After hours of growing and learning, and inspired by the medicinal gardens we visited through the years, we began planning the Medicinal Garden. We carefully chose plants that supported the body's systems, plants that intrigued us, and plants that satisfy our curiosity to know more. In 2019, the Medicinal Garden was brought to life. In the center of the garden stands a stone from Cureton Mill, a nod to the heritage of the land and its long-standing history of providing sustenance for all its inhabitants.
From the plants carefully tended, many are harvested, dried, and blended into our signature tisane and culinary offerings. Visitors to the gardens will enjoy viewing these plants and learning how to incorporate them into their own healthy lifestyles.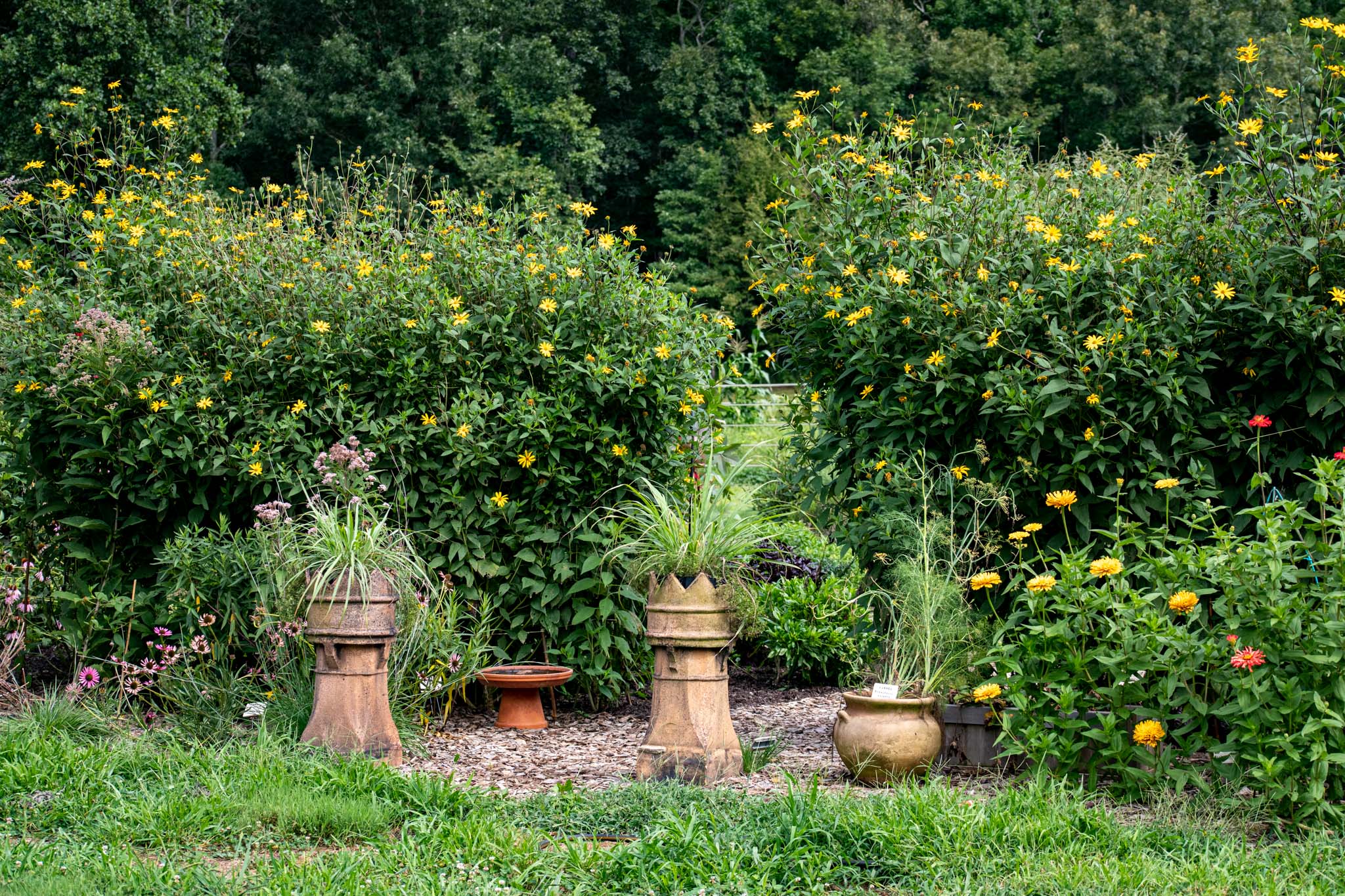 Here's a list of items we cultivate in our Medicinal Herb Gardens for the enjoyment of our visitors as well as to use in our tisane and spice blends:
Anise Hyssop
Ashwagandha
Black Cohosh
Blueberries
Boneset
Calendula
Catnip
Chamomile
Comfrey
Echinacea
Elecampane
Elderberry
Ginger
Hibiscus
Horehound
Lemon Balm
Lemongrass
Lemon verbena
Marshmallow
Mullein
Nettle (Stinging)
Oregano
Passionflower
Peppermint
Plantain
Pleurisy (Butterfly Weed)
Sage
Seasonal Vegetables
Spilanthes (Toothache Plant)
Stevia
Tarragon (Russian, French, Spanish)
Thyme
Tulsi – Holy Basil
Turmeric
Valerian
Yarrow
Yellow Dock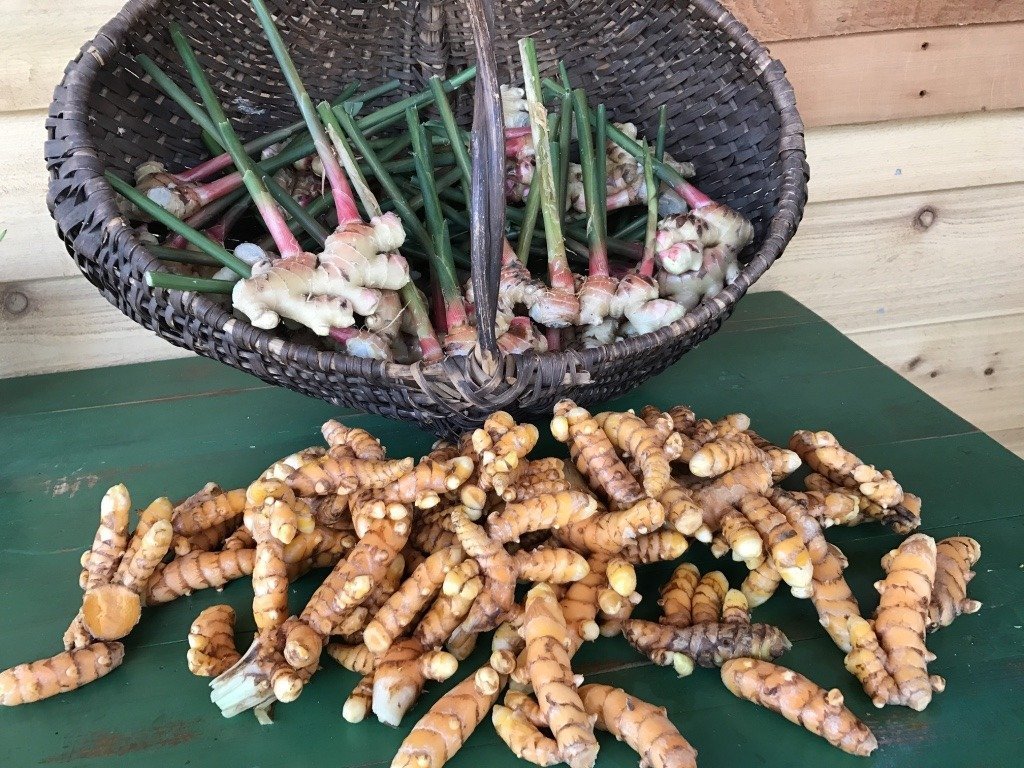 Out of all of the healing plants grown at Rising Fawn Gardens, there is a special affinity for turmeric. What started out as a plant grown on a whim has developed, along with ginger, as the farm's main cultivated crops.
It all began with our family's tradition of attending Auburn University. Five immediate family members are graduates. War Eagle is our cry and you will proudly see the Auburn flag flying below the American flag as you cross over the bridge to enter the property. While the youngest was a student, he worked in Auburn's Crop Science Research Center. Part of the study then was on turmeric plants. He brought home a few of the rhizomes for his parents to grow and the rest, as they say, is history.
From these first rhizomes and other Auburn-sourced cultivars added in over the years, a crop-producing over 600 pounds of rhizomes has developed.
Auburn University and Alabama A&M University have conducted a grant-based study to determine turmeric's viability as an agricultural product for Alabama farmers. Rising Fawn Gardens is proud to have been included in this research which surveys the cultivation of some not-so-common varieties from India and Vietnam. Study results will soon reveal the levels of the active compound in turmeric known as curcumin. This information will enable us to fine-tune the cultivars grown choosing only those with the highest levels.
We have fresh turmeric and ginger available during harvest from November to January. To stay up to date on these offerings, sign up for our newsletter here.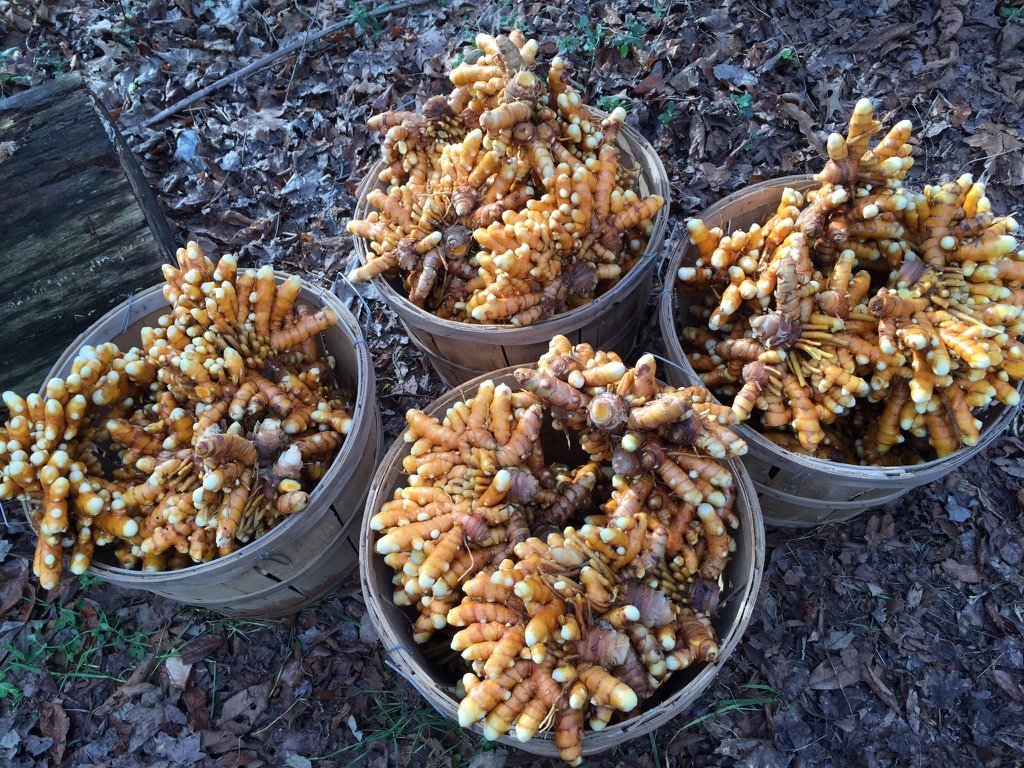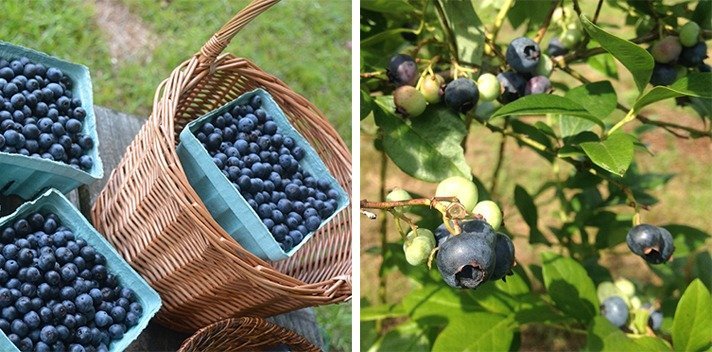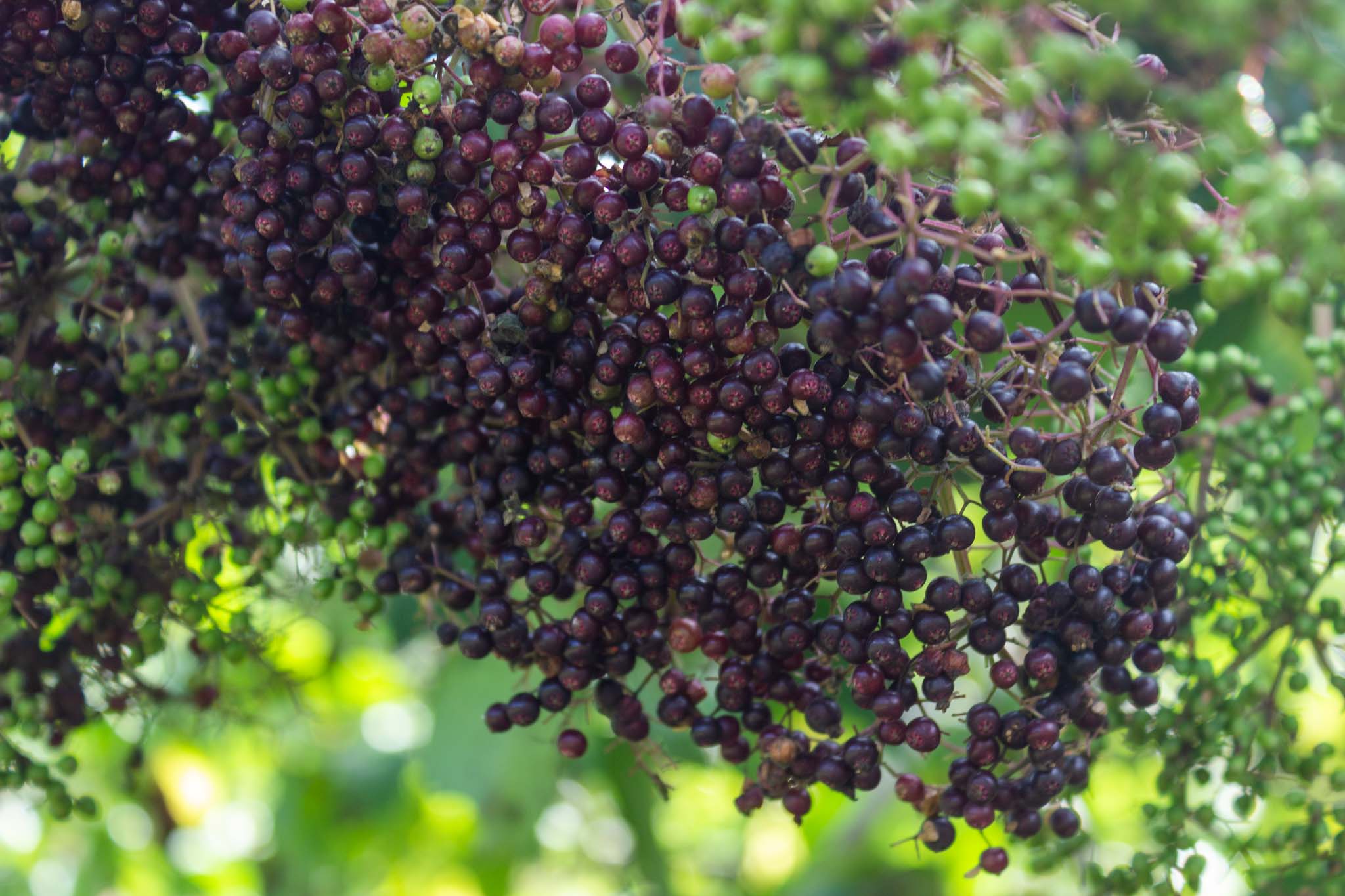 Blueberries and Elderberries
One of the first gardens created was the grove of blueberry bushes. Blueberries invoke quintessential images of summertime. Their vivid color is a rarity in the natural world, signaling that though small, these berries are a special kind of food. The tiny fruits are hugely loaded with vitamins, minerals, and phytonutrients. They are known for their powerful antioxidant properties, and, of course, for their delicious, sweet taste, with flavors that burst in your mouth.
Elderberry is a native and abundant wild plant in this region. Six wild elderberry saplings were transplanted from the woods into the Medicinal Garden where they thrive, having grown to over ten feet tall and creating a natural border. Elderberry is a powerhouse plant loaded with antioxidants and vitamins and generously boosts the immune response. Like blueberries, they are vivid in color, and birds love them!