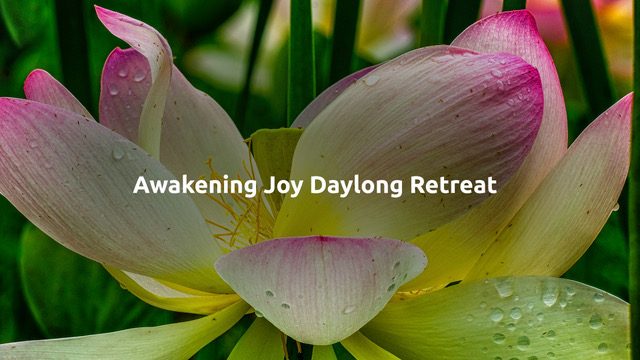 Date
Dec 04 2021
Expired!
Awakening Joy Daylong Meditation Retreat Led by Janka Livoncova
The Awakening  Joy Meditation Retreat with Janka is filled. If you would like to be placed on a wait-list, please email Janka at janka@breathingbody.net
This retreat will focus on cultivation of Appreciative Joy (Mudita).
"Mudita is one of the most rare and beautiful qualities that we can awaken. It strengthens our capacity to experience joy and happiness. It is likened to a flower at full bloom. It is the ability to appreciate something as it is blooming and releasing the fragrance of its happiness. The clarity and lightness that shines through with this mindfulness practice lifts the heart out of the preoccupation with insufficiency." – DaeJa Napier
The retreat will be held in noble silence and will include alternating periods of sitting and walking meditation, mindful movement, instructions and reflections, with a mid-day lunch break to practice mindful eating. The schedule will also include an optional discussion period to reflect on how to skillfully apply the wisdom of the practice in our daily life.
This retreat is suitable for all levels of practice, however some meditation experience is suggested.
 Bring your lunch and any appropriate props you will need for your sitting meditation practice. Rising Fawn has chairs, large bolsters and blankets. 
Wear comfortable clothing and shoes for walking outside.
Cost: $35 registration fee + Dana* for the teacher
There will be an opportunity to offer Dana to the teacher at the end of the retreat (financial contributions in the form of a check or cash).
*Dana is the time-honored etic and tradition of expressing gratitude through generosity that Janka is dedicated to keeping alive by freely offering the teachings, and her guidance. What this means is that she receives no compensation for teaching retreats, and relies instead on the generosity of retreat participants.
 Read more about dana practice.
https://tricycle.org/magazine/gift-cannot-be-given/
Read more about wisdom of giving.
https://tricycle.org/magazine/wisdom-giving/
For our safety we are requesting that everyone attending is fully vaccinated and wears a mask while inside. We will be able to properly ventilate and socially distance so mask will be optional while you are sitting on your cushion or chair. 
There is one work-study scholarships available.Please call Janka at 423-488-5406 to inquire.
 To read more about Janka, visit www.breathingbody.net and www.chattanoogainsight.com
Rising Fawn Gardens has a no refund policy. If extenuating circumstances prevent you from being present, please contact us in advance of the event so that another participant can be provided the opportunity to attend.